My basic productivity/tracking process, with monthly/weekly/daily tasks (using the 2019 planner). It's my first explainer video, so forgive the choppy edits and earnest rambling. :) Also, there are a couple swears.
(Note that I do tweak the design every year, mostly based on my own needs, so a few details may be different this year.)

​and I've gotten a lot of questions about the new tracking divider...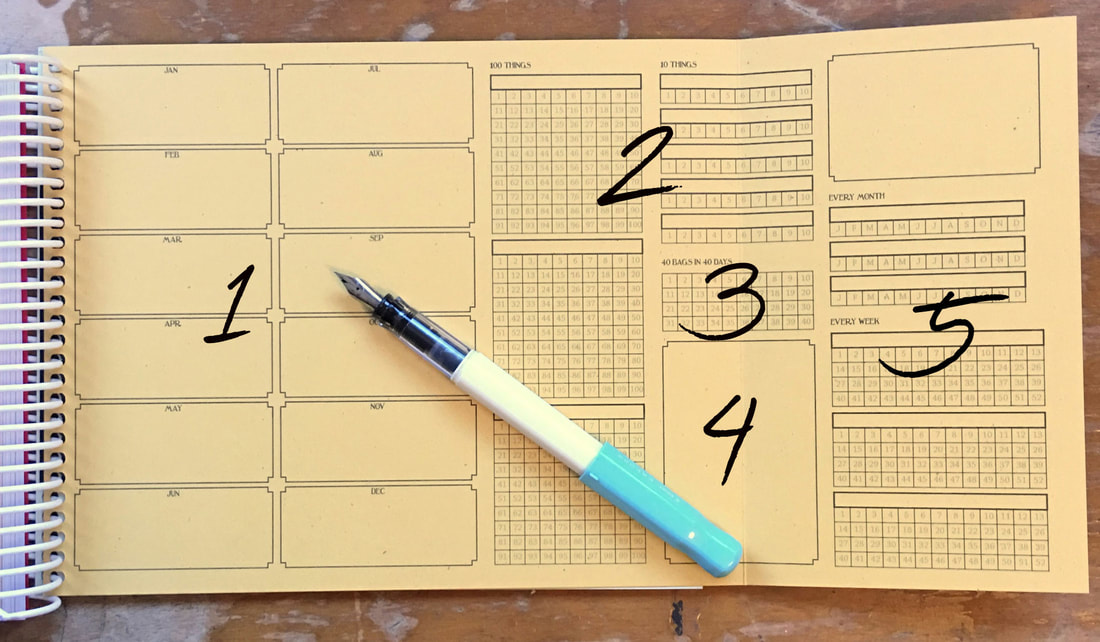 Here's how I use mine, but adapt it to suit.
1. Big Picture plotting & planning.
I'm defining work, personal, creative, and decluttering/streamlining focus areas each month. I black out months I know I'll be too busy to make progress. Plotting out the year helps me clarify my priorities and decide what to abandon. You can use it map out anything from social plans to home improvement to movie genres.
2. Stuff you want to do 100 or 10x this year.
My 2019 100s are Rosetta Stone, flossing, and hanging out with other adult humans of my choosing (I'm shooting for 50 there). 100s are essentially stuff you want to do 3x/week, with a little wiggle room. My 2019 10s are my Make 9 (okay, 9 there; for the
Make 9 Challenge
), Fiber Final Fridays (the goal is to spend at least half a day playing with the fiber stuff I sell), 1SE monthly mashups (e.g.,
January
), learning new skills or subjects, and hygge. In the past I've done things like knit 10 sweaters or spin 10 bumps of wool or read 10 novels or work out 100 times or write 10 paper letters or cook 10 new dishes or get rid of 100 pieces of clothing, and so on.
3. 40 Bags in 40 Days
is a challenge to eliminate 1 bag of crap from your life (trash/recycle/donate/gift) each day for 40 days. You can do it whenever you want, or you can play along with the
online original,
which goes along with Lent, March 6 - April 18, with Sundays off (I somehow got through a whole Catholic childhood no knowing you get Sundays off, rip off!).
4. Free space! P
lan important things or make a listy or come up with a mantra or doodle or leave them pleasantly blank.
5. Stuff you want to do monthly or weekly.
My 2019 monthlies are breast self-exams, Garbage soup, and Zones of Decrappification. My 2019 weeklies are: Fridge clean/menu plan/Doomsday Pantry, sell something I don't want and put it towards debt, money/budget review.
​
Note:
There's also daily tracking on the monthly flaps.